The Asgard Project (Remastered)
Synopsis: The Asgard Project follows Leo Houlding's ambitious project, with fellow big wall climbing god, Stanley Leary, to make a first free ascent on the North Tower of the incredible Mt Asgard on Baffin Island deep in the Arctic and then descend from the summit via wingsuit. Arriving late in the season the trip soon begins to go wrong. After a spectacular arrival, skydiving over Mt Asgard, conditions turn against the team where just reaching the base of the climb becomes a massive challenge.
The film produced by multi-award winner, Alastair Lee, is an all out spectacular, documenting a truly cutting edge adventure with all its twists and turns.
Genre
Documentary
Rated
NR
Language
English
Run Time
68 minutes
Available Territories
Worldwide
Starring
Leo Houlding
Stanley Leary
Carlos Suarez

Directed by
Alastair Lee
Prod. Company
Sponsor brands
The Asgard Project is the first of three expeditions with Leo Houlding and friends. The second is Autana, and the third, The Last Great Climb.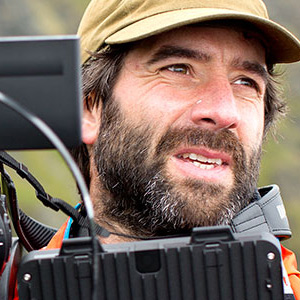 Alastair teamed up with Dave Halsted in 2004 to produce Twice Upon a Time in Bolivia which has now been a finalist at over a dozen international mountain film festivals and won six top awards. Their next film Storms an experimental climbing comedy scooped two gongs at the Kendal Mountain Film Festival 2005. In 2006 they produced another successful venture with the climbing blockbuster Set in Stone which ran off with 'Best Climbing Film' and the 'People's Choice' at the Kendal Mountain Film Festival, its also picked up a couple of awards in the States and is a must at any mountain film festival line up. In 2007 Alastair went solo as Dave's animation career took off, to produce PSYCHE which picked up two awards at Kendal 2007, including Best Adventure Film and the People's Choice Award and has won a further 7 awards around the globe.
Alastair is now well established as one of the UK's leading adventure film makers since his 2008 release On Sight which has seen rave reviews and won the prestigious Grand Prize and Best Climbing film at the 2008 Kendal Mountain Film Festival. In 2009 Alastair teamed up with top climber Leo Houlding on his most ambitious film to date; The Asgard Project which has won 22 international awards and was broadcast on Discovery Channel's freeview channel 'Quest'. A further two epics have been produced with Leo; Autana (2012) and most recently The Last Great Climb which is scooping up gongs around the globe and is being broadcast on National Geographic US in July 2014.
Banff Mountain Film Festival - Canada - 2010
Best Climbing Film (The Asgard Project)
Kendall Mountain Film Festival - United Kingdom - 2009
People's Choice Award (The Asgard Project)
Domzale Mountain Festival - Slovenia - 2010
Grand Prize (The Asgard Project)
Trento Film Festival - Italy - 2011
Golden Gentian for Mountain Film (The Asgard Project)
Squamish Mountain Festival - Canada - 2010
Grand Prize (The Asgard Project)
Mountain & Adventure Film Festival - USA - 2015
Best Feature Film (The Asgard Project)
Bansko Mountain Film Festival - Bulgaria - 2010
Best Film On Mountain Sport (The Asgard Project)
Graz Mountain Film Festival - Austria - 2010
Alpine Camera Gold (The Asgard Project)
Tegernsee Film Festival - Germany - 2010
Best Mountain Experience (The Asgard Project)
Sheffield Mountain Film Festival - UK - 2010
People's Choice Award (The Asgard Project)
Cervino Mountain Film Festival - Italy - 2011
Mountain Passion Award (The Asgard Project)
Neuquen Mountain Film Festival - Argentina - 2011
People's Choice Award (The Asgard Project)
Mendi Film Festival - Spain - 2010
Best Mountain Film (The Asgard Project)
Czech Republic Outdoor Film Festival - Czech Republic - 2010
Grand Prize (The Asgard Project)
Torello Mountain Film Festival - Spain - 2010
Grand Prize (The Asgard Project)
Edinburgh Mountain Film Fest - UK - 2010
Best Climbing Film (The Asgard Project)
Adventure Film Festival London - UK - 2010
Grand Prize (The Asgard Project)
Ladek Mountain Film Festival - Poland - 2010
Grand Prize (The Asgard Project)
VI Inka Fest - Peru - 2010
Grand Prize (The Asgard Project)
Diablerets M Fest - Switzerland - 2010
Golden Devil for Extreme Sports (The Asgard Project)
NZ Mountain Festival - New Zealand - 2010
Best Climbing Film (The Asgard Project)
NZ Mountain Film Festival - New Zealand - 2010
People's Choice Award (The Asgard Project)
Llanberis Mountain Festival - UK - 2010
Best Feature Film (The Asgard Project)
Alastair Lee's film mixes the human and the spectacular to gripping effect. - OUTDOORSMAGIC.COM
Country of Origin
UK
Production Year
2009
Aspect Ratio
1.77:1 (16:9)
Sound Mix
Stereo LT/RT
Medium
HD
Resolution
1920x1080
Official Website
Facebook
Twitter
https://twitter.com/al_lee
Instagram
https://www.instagram.com/alastair__lee/