Synopsis: From Australia's most acclaimed playwright, David Williamson, a moving and powerful new film about lies, betrayal, sex and bullying in the workplace.
A young construction worker rams into the back of his boss's Jaguar in a fit of anger at being sacked. Rather than fronting court, he's given the chance to explain his actions in a community conference.
This face-to-face confrontation between the young man, his boss, his boss's wife, coworkers, best mate and mother lifts the lid not only on his dysfunctional life but also on their workplace dirty laundry, turning all of their lives upside down.
Face To Face stars a stellar ensemble cast led by Vince Colosimo, Sigrid Thornton and Luke Ford and is directed by Michael Rymer (Angel Baby).
Genre
Drama / Courtroom
Rated
NR - Treat as PG-13
Language
English
Run Time
87 minutes
Starring
Vince Colosimo (Greg Baldoni)
Luke Ford (Wayne Travers)
Matthew Newton (Jack Manning)
Sigrid Thornton (Claire Baldoni)
Ra Chapman (Therese Martin)
Lauren Clair (Maureen Travers)
Christopher Connelly (Richard Halligan)
Laura Gordon (Julie Rossiter)
Robert Rabiah (Hakim Slimon)
Josh Saks (Barry McLean)
Calen MacKenzie (Young Wayne)
Glenn Maynard (Nookie)
Dom Phelan (Mac)
Directed by
Michael Rymer
Produced by
Gabrielle Christopher
Leanne Hanley
Executive Producer
Kaz Emanuel
Nick Orloff
Be warned, this is a little movie, with big ideas. With all the strife in the world, human nature being what it is, and history not really offering any positive examples, I've often wondered if there's any way out.
When I see the terrible violence that's inflicted on one generation against their enemies, ensuring the next generation will dish out the same in kind. I just look at neighbors and work colleagues and wonder, "If we can't get past these smaller grudges and animosities, what hope do we have for the bigger ones?"
I came upon this when an old friend was trying to explain this revolutionary work he was doing – he then emailed me a copy of a play that David Williamson had written on this very material. When I read the play, I laughed, I cried – I couldn't believe that I could ever care so much about such an ordinary scenario. I said to my friend "This is really amazing, but the ending's a bit hard to believe. There's no way these things work out so… completely." My friend responded, "Actually, they almost always do. And if not so completely, at least the individuals take away some new personal skills and understanding". "But if this really works, then you've cracked the way to solve global conflicts." My friend shrugged humbly, "That's what we're hoping, yes."
Here is a system that actually works. By systematically exposing each person to one other and forcing them to see the consequences and effects of their actions, the characters are able to transcend their own subjective view, and understand that they are part of a "tribe" where everyone's actions affect everyone else.
I grew up watching David Williamson movies, Don's Party, The Club, Traveling North, Gallipoli, Emerald City, and this particular play, Face to Face, I believe, is one of his best. Using real cases, David somehow transmuted this wonderfully raw, real material into an almost perfectly structured play that unfolds with enough twists, reversals, and surprises to fill three movies. He has created a gallery of characters that are so real, so recognizable, yet never stereotypical or pat.
The paradigm for a picture like this is Twelve Angry Men: a film I first saw in high school. Twelve guys in a room, but with some great, great acting and blocking, you never feel claustrophobic, because you're seeing a great story unfold, well told.
We've opened up the play, with flashbacks to the key events – but we want to keep the focus on what's happening psychologically. But I've resisted going too far, because I want to preserve the pressure-cooker intensity necessary for these characters to open up. This is a film that demands the camera go from face to face – the landscapes of this film are the actor's faces – the special effects are the emotions rippling across their eyes and mouths. Not all films have to be the same – there's room for very visual films and there's room for films like this. If I do my job right, no one will even notice.
The people who showed up for Kenny and The Castle will come to see an Australian film about authentic Australians. In the international market, I see round the festivals, markets and art houses, that there's an increasing appetite for stories that don't rely on sensationalism, prurient excesses and gimmicks. But our real hope for this film is that, like Twelve Angry Men, Face to Face will have a long life in Law Schools, Civics Classes, high schools and community centers around the world. And who knows?
Maybe a small movie can change big things.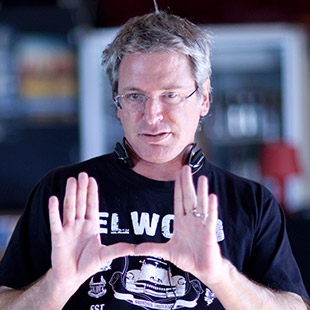 A native of Melbourne, Michael Rymer made his Australian feature film directorial debut with his screenplay Angel Baby, a tale of two schizophrenics who fall in love and try to live on their own.
The film, which stars John Lynch and Jacqueline MacKenzie, premiered at Sundance in 1996 and earned seven AFI awards including Best Picture, Best Direction, Best Screenplay as well as Best Actor and Actress, along with four Australian Film Critics Circle Awards, and the Human Rights award.
Michael has also directed Miramax's In Too Deep starring Omar Epps, L.L. Cool J. and Nia Long and Warner Bros. Queen of the Damned
starring Stuart Townsend and Aaliyah and experimental improvisational features Allie and Me, and Perfume with Jeff Goldblum, Paul Sorvino, Michelle Williams, Michelle Forbes, Michelle Monahan, Jared Harris and Rita Wilson.
Santa Barbara International Film Festival - USA - 2011
Panavision Spirit Award For Independent Cinema (Face to Face)
Monaco Film Festival - Monaco - 2011
Best Movie (Face to Face)
Monaco Film Festival - Monaco - 2011
Best Ensemble Cast (Face to Face)
Los Angeles New Wave International Film Festival - USA - 2011
Best Screenplay (Michael Rymer)
Los Angeles New Wave International Film Festival - USA - 2011
Best Costume Design
First Glance Film Festival Hollywood - USA - 2011
Best International Feature (Face to Face)
Honolulu International Film Festival - USA - 2011
Gold Kahuna Award (Face to Face)
Newport Beach International Film Festival - USA - 2011
Best Director (Michael Rymer)
Newport Beach International Film Festival - USA - 2011
Best Actor (Vince Colossimo)
Newport Beach International Film Festival - USA - 2011
Best Actress (Ra Chapman)
Mexico International Film Festival - Mexico - 2011
Golden Palm Award (Face to Face)
Amsterdam Film Festival - Netherlands - 2011
Best Feature Film Screenplay (Michael Rymer)
Berkshire International Film Festival - USA - 2011
Best Narrative Feature (Face to Face)
Los Angeles New Wave International Film Festival - USA - 2011
Best Feature Film (3rd Place)
Sedona International Film Festival - USA - 2011
Audience Award (Runner Up)
Amsterdam Film Festival - Netherlands - 2011
Berkshire International Film Festival - USA - 2011
Daytona Beach Film Festival - USA - 2011
Las Vegas Film Festival - USA - 2011
Long Island Film Festival - USA - 2011
Manhattan Film Festival - USA - 2011
Marbella Film Festival - 2011
Palm Beach International Film Festival - USA - 2011
Puerto Rico International Film Festival - USA - 2011
San Antonio Film Festival - USA - 2011
The Film Festival of Colorado - USA - 2011
Vail International Film Festival - USA - 2011
Face to Face is that rare film which grabs a hold of you at the beginning and doesn't let go till the end. It is an amazing piece of cinema – riveting, thought-provoking, transformative. Only once or twice a year do I see such a film – and this year that film is Face to Face. - MICHAEL MOORE -
4 STARS, Terrific! a really riveting piece of drama and his cast triumph - MARGARET POMERANZ, AT THE MOVIES, ABC
5 STARS, An Aussie film that easily slips into my Top Ten Australian Films of All Time. In face Face To Face is so good that if it were an American Film you can guarantee that people would be mentioning its name in the same sentence as the word Oscar - DAVE GRIFFITHS, BUZZ MAGAZINE
4 STARS, An engrossing tale. Vince Colosimo nails his part, Luke Ford - Excellent, Matthew Newton - Perfect. Its Fabulous! - RICHARD WILKINS, THE TODAY SHOW
4.5 STARS - Floating between strong tensions and sharp humour, it's marvelous viewing that will please those who see Australia as a country making world-class films unblemished by the cliches of pop culture. It's packed with surprises. Every performance is right on the mark. And despite its serious core, it sends us out with warm fuzzies. - DOUGAL MACDONALD, CITY NEWS
A powerful, engaging film that delivers insight and emotional punch…Astringent & Gripping, Face To Face is a triumph. - ANDREW L. URBAN, URBANCINEFILE.COM.AU
It is the perfect crucible, and of course, nothing is what it seems…Face to Face is an example of the quality that can be achieved when you start with a good script, and stay true…is sure to be one of the best Australian offerings of the year. - REBECCA BUTTERWORTH, FILMINK MIFF COVERAGE
The film is entirely believable. To such an extent that the momentum, the revelations, the emotions, the perspectives and the performances peel away the layers to find the core of the problems and leave you believing a fair resolution will be achieved. - LYN MILLS, CANBERRA TIMES
Rymer combines crisp, fluid camerawork with a flowing, penetrative script that he adapted from David Williamson's play. The result is a small-scale character-driven work that stands tall, gliding smoothly between introspective stillness and dramatic fireworks. - SIMON FOSTER, SBS FILM
The film's crowning beauty is its fluidity. The conversations, loaded with humorous tilts, entwines back-stories, flashbacks and character motivations until the audience's initial moral judgements are almost completely upturned. - LUKE BUCKMASTER, CINETOLOGY
Everyone's dirty laundry gets raised up the flagpole in Face to Face, a bristling little Australian indie that lands its many punches with pungent power. Within the format of a community conference – an Australian technique of airing differences with the hope that reconciliation can avoid official legal proceedings – what seems like a simple case of a wild youth's violence fans out to expose a far deeper and comprehensive set of ills. Winner of the Santa Barbara Film Festival's independent feature award, this smartly enacted issues drama snaps the audience to attention from the outset and never lets up… - TODD MCCARTHY, HOLLYWOOD REPORTER
My problem with Face to Face is that, hard as I try, I can't find any flaws. The film opens with a shock, a scene that looks like road rage, but isn't. From then on, nothing is what it seems, as a cast of variegated characters decides the offender's fate. I found myself stuck to my armchair waiting for the next Pirandello-like unravelling of character. Audience assumptions are built and peeled away, one surprise follows another to reveal identities and relationships. It isn't easy to maintain pace when the focus is on a small set of men and women sitting in a single room, but Australian Director Michael Rymer has a deft hand. The casting is superb, the attention to detail stunning. Face to Face lived up to its promise - a film as powerful and riveting as 12 Angry Men. Can Rymer's next effort maintain the momentum? - LOIS BOLTON, MONACO DIARY & BAM NEWS
Country of Origin
Australia
Production Year
2011
Sound Mix
Stereo LT/RT
Camera
Canon EOS 1D Mark IV, Canon EOS 7D
Medium
HD
Resolution
1920x1080
Official Website