Log in and the PLAY button will appear when your screening is available.
Synopsis: A naive university student, Evangeline, is brutalized by a gang of thrill seeking killers. Left to die in the forest, she is 'saved' by an ancient demon spirit. The spirit empowers Evangeline with a blood-lust for vengeance. Evangeline must make a choice, is she willing to sacrifice her own soul…
Genre
Ghost and Haunted
Rated
NR
Language
ENGLISH
Run Time
85 minutes
Starring
Richard Harmon (Michael Konner)
Directed by
Karen Lam
Prod. Company
Opiate Pictures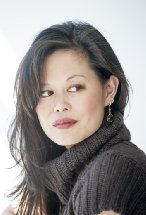 Karen has worked full-time in the film and television industry since 2000. Starting her career as a producer and entertainment lawyer, Karen has produced four feature films, eight short films and three television series. Her first short film as a writer/director ("The Cabinet") won the NSI Drama Prize in 2006. She has since written/directed seven short films, a music video, a documentary television series, two feature films — "Stained" (2010) and "Evangeline" (2013) — and a web series "Mythos" (2015). Women in Film and Television – Vancouver recognized Karen's artistic achievements, and awarded her with the Artistic Innovation Award for Women in Film – in March 2013. Karen's short films have garnered international awards and extensive screenings at international film festivals. The projects have been shown at festivals worldwide and won numerous awards, including "Best Film" and "Best Director." Although primarily working in fiction, Karen was the series director on the true crime documentary television series "Very Bad Men," (2012) for ten episodes, produced by Make Believe Media in Vancouver, and broadcast on Investigation Discovery US and Canada. Karen's latest feature film "Evangeline" premiered at the Monsters in Film Festival in Stockholm, Sweden, where she was invited to speak as a guest panelist on women in genre filmmaking. Evangeline has since been awarded "Best Director" and "Best Cinematography" at the Blood in the Snow Film Festival in Toronto, and was the opening gala feature film at the 2014 Vancouver Women in Film Festival. Her latest venture, a web series "Mythos" (produced with the participation of TELUS Optik TV) won "Best Web Series" at the 2015 Leo Awards, and will be having its international festival premiere at the Marseilles Web Festival in October 2015.
HorrorQuest Film Festival - United States - 2014
Best Cinematography (Michael Balfry)
Country of Origin
CANADA
Production Year
2013
Official Website
Facebook
Twitter
https://twitter.com/opiatepix