7 Questions with CEO, Festival Director, and Producer, Benjamin Oberman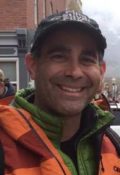 1. FFF: How did you get into the entertainment industry?
BENJAMIN: I started as an athlete (pairs) on the US Figure Skating Team. That led to an opportunity working for ABC Sports which lasted two years. I learned a lot, but wasn't ready to be behind the camera. I had a professional career performing on stage more than one thousand times before catching the producing bug. I started with live production then made for TV sports events. My career evolved into producing scripted TV and film, commercials and documentaries. When I noticed an increasing number of great films failing to reach audiences beyond the film festival circuit, I started a distribution company to improve the system and champion quality films.
2. FFF: What do you like best about your work?
BENJAMIN: I love the people I meet and with whom I work. I love the stories they tell and the films I see. I love the creativity involved in all we do and the challenge of connecting films and audiences.
3. FFF: Where do you find inspiration?
BENJAMIN: I find inspiration in nature, when hiking, running, and climbing in the mountains, in the quiet moments before the sun rises, and in observing others as I move through life.
4. FFF: How would you describe your style of work?
BENJAMIN: I like to work collaboratively. Once I have a clear vision, I'm very strong in building the best team possible with everyone working toward our common goal. I think I have a quiet intensity. I rarely yell or criticize, but I expect everyone to give everything they have and to execute at the highest degree. I pull from my many years of athletics and coaching and apply it to business. I strive for "perfect" to be normal. However, nothing ever goes according to plan, so much like climbing, I'm constantly adjusting based upon the feedback the world is providing at any given moment.
5. FFF: What are your favorite films?
BENJAMIN: There are more than I can truly list, but some of my favorites include: The Shawshank Redemption, A River Runs Through It, Touching the Void, Drawn, The Pink Panther Strikes Again, Blazzing Saddles, and The Princess Bride. I like any film that takes me on a journey and draws me in so completely that I don't think of other things I'd rather be doing at that moment. If I'm compelled to tell other people about what I saw, then it's really great.
6. FFF: Do you have a person on your wish list to work with?
BENJAMIN: I'm very lucky to be working with a team of incredible athletes who inspire me every day. I'm surrounded by filmmakers who capture the emotions of the moment and share every conceivable event with the world. There will always be people I'd like to work with, but today I'm doing what I love!
7. FFF: What's next?
BENJAMIN: Next for me is now. It's been an evolution of many events to get my life and business to where we are today. Next month is our Mountain & Adventure Film Festival. I'm completely focused on that festival, and all that will come from it in the future. Check it out!